TU opens admission for MSW program
21 September 2016 EducationSansar
Notices
Tribhuvan University Faculty of Humanities and social sciences, Masters of arts in social work(MSW) program, Kritipur calls admission for 2016-2018 academic session. Admission form is distributed from Ashoj 5 and should be submitted within Kartik 30, 2073. Further details is given below: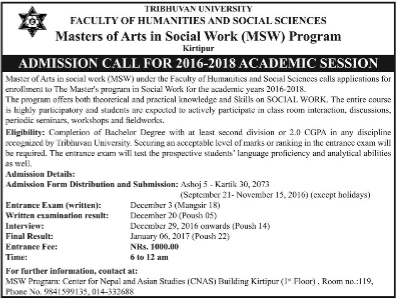 Tribhuvan University, Faculty of Management, announced an urgent notice for filing up exam form of Bachelor of Hote...

Tribhuvan University (TU), Office of the Controller of Examinations announced chance exam form fill up notice ...

National Examination Board, Examination Controller office, Sanothimi, Bhaktapur published notice regarding chance examin...