Tribhuvan University Published retotal result of MBS 1st year
31 August 2016 EducationSansar
Notices
Tribhuvan University, Office of examination has published the re-total result of MBS 1st year. This result was published by the decision of the Central Examintion Committee which was held on 12 Bhadra 2073.
The result of MBS 1st year was published on 17 Asar, 2073.
Further Details is given below: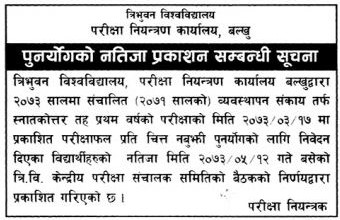 Tribhuvan University, Faculty of Management, announced an urgent notice for filing up exam form of Bachelor of Hote...

Tribhuvan University (TU), Office of the Controller of Examinations announced chance exam form fill up notice ...

National Examination Board, Examination Controller office, Sanothimi, Bhaktapur published notice regarding chance examin...