Notice regarding postpond of entrance examination
10 November 2016 EducationSansar
Notices
Tribhuvan University, Institute of Science and Technology, Dean office today published an urgent notice and postpond the entrance examination of Bachelor of Science (B.Sc.) program is scheduled to be on Kartik 27. The Entrance examination is going to be held in Mangsir 4, 2073.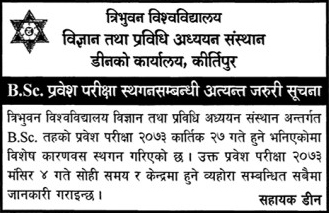 Tribhuvan University, Faculty of Management, announced an urgent notice for filing up exam form of Bachelor of Hote...

Tribhuvan University (TU), Office of the Controller of Examinations announced chance exam form fill up notice ...

National Examination Board, Examination Controller office, Sanothimi, Bhaktapur published notice regarding chance examin...