CTEVT postponds examination of LP/AH and Survey Engineering (Post SLC Program)
22 September 2016 EducationSansar
Notices
Council for Technical Education and Vocational Training (CTEVT) postpond examination of LP/AH (Post SLC Program) and Survey Engineering (Post SLC) program. Exam should be held on 2073/06/06 but because of some technical problem it was scheluded on 2073/06/13. Further details is given below: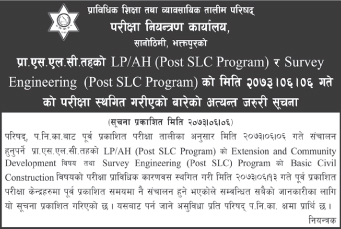 Tribhuvan University, Faculty of Management, announced an urgent notice for filing up exam form of Bachelor of Hote...

Tribhuvan University (TU), Office of the Controller of Examinations announced chance exam form fill up notice ...

National Examination Board, Examination Controller office, Sanothimi, Bhaktapur published notice regarding chance examin...